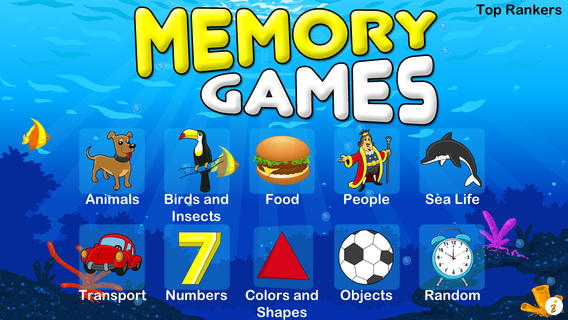 There has been a long-standing debate about the effectiveness or usefulness of Memory Games. Due to a difference of opinion the effectiveness of memory games can be argued from both sides. I for one would like to speak for memory games instead of against it.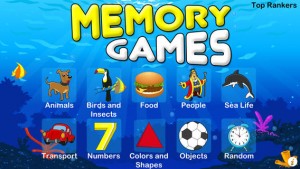 When it comes to boosting your child's memory for studies, what works best is memorising techniques such as "Mnemonics". Mnemonics are nothing but associations that are formed in order to improve the memorisation of material that needs to be studied, remembered and recalled when required. Although it assists in improving the memory of things over all and is also fun; playing memory games too have its advantages. Mnemonics are not to be confused with simply improving memory because they are in fact memorising techniques which can perform the role of improving ones memory.
When it comes to improving memory nothing works better than memory games. Memory games; like mnemonics are known to improve the memory of kids and that too in an enjoyable manner. Memory games whether on-line or off-line help both children and adults alike to improve their memory.
Memory games are nothing but another way to improve our memory. Memory games are loosely termed as concentration games. Games that help develop one's concentration and focusing skills are ideal games to play. The human brain has an astonishing ability to adapt and change well into old age as well. This ability is known as "neuroplasticity". With the right stimulation, your brain can form new neural pathways, alter existing connections, adapt and react in ever-changing ways (helpguide). No wonder, they say that humans use only a couple of thousands of neurons within their brain in their entire lifetime. Therefore, playing memory games helps people to make use of up to billions or even trillions of such neurons.
This article will help parents to understand why memory games are effective and how do their children stand to benefit from them. But before we ravel into the nitty-gritty of the benefits of memory games, lets find out more about whether or not memory games are as effective as people claim it to be. In my opinion the answer to the question, Can memory games really boost a child's memory? Is yes, they can. Here's why?
Memory games aid in memory improvement by enhancing concentration and focusing skills

Aside from improving ones memory of things, they also increase brain power

Memory games actually provide a good workout to your brain

Memory games if played on a regular basis are known to increase the concentration power of your brain within no time.

Memory games keep the brain active all the time

An active brain can prevent diseases that affect memory such as Alzheimer's or even amnesia

Memory games have a positive effect on the mind

To stay mentally sharp playing memory games is important

These games are totally safe, healthy and free from violence unlike other games

Memory games boost your child's brain functionality

Just like the body needs a workout to function efficiently so also your brain needs a workout to function at its optimum level and games whether indoor or outdoor nonetheless improve memory.

Not only do they improve memory they can even be written off as a productive use of time instead of whiling away time in useless activities.

Games that are designed for improving specific aspects of the brain, for instance – improving vocabulary can enhance your child's skills in other areas by activating other parts of the brain.

They serve as a good way to while away time along with enjoyment and all the while improving one's memory too.

With an increase in concentration and focus even the attention span is enhanced resulting in more matter learnt within a short span of time.

An enhanced attention span improves your child's academic performance simultaneouslyNeed I say more? Well I have given you my views whether you agree to them is another question best left for another time. As there are two sides to a same coin, similarly you can argue for and against memory games. Hope this cleared whatever doubts you may have had initially. But whether you share the same views is up to you. For more information about memory games or

memory

,

English

,

vocabulary

,

maths

improvement tips you can visit

www.careerfutura.com

.