Religion and Culture
Religion is full of stories, symbols, beliefs and practices giving meaning to life or to explain the origin of life. Expressing love towards the religion varies according to the prayer, ritual, meditation, music and art, etc. They may also concentrate on specific supernatural, metaphysical, and moral claims about reality that may turn out to be a religious law, ethics, and a particular lifestyle. Religion also encloses ancestral or cultural traditions, writings, history, and mythology, with personal faith and religious experience.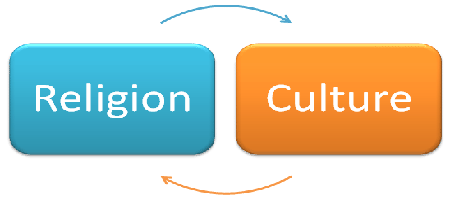 Key to Success
To be successful in religion and culture you should have/ develop:
  Accuracy
  Precision
  Cool & calm temperament
  Speech Clarity
  Problem Sensitivity
Scope and opportunities
After completing a course in religion and culture there are job opportunities in the following fields:
Preschool Director/Teacher for Sanskar
Director of Social Services
Community Program Manager
Religious Researcher
Missionary
Cultural Affairs Officer
Lifestyle & Social Status
It can be outdoor or indoor job
Job Profile
Preschool Director or Teacher: The individual has to take care of Sanskar.
Responsible for scheduling, curriculum development, extracurricular activities,
Religious Researcher
Missionary
Public Relations: Organize activity with a community to maintain an environment that benefits both the organization and the community.
Cultural Affairs Officer
Skill set
Excellent Writing Skill
Good verbal Communication Skill
Reading Comprehension
Judgment and Decision Making
Work Value
Take responsibility
Passion
Perseverance
Quick and flexible mind
Relationships
Recognition
Current Job Scenario
Initially, they are paid between Rs.9, 000 to Rs.15, 000PM and increases with growing experience and knowledge.
Top Recruiters
Top School
NGO
Community centre
Defense services
Course Synopsis
| | | |
| --- | --- | --- |
| Course Options | BA | MA |
| Academic Eligibility | Pass in 10+2 / equivalent in any discipline | BA |
| Fees | Rs. 10.000 Per Annum | Rs. 15,000 to Rs. 20,000 Per Annum |
| Expenditure in Metro and Tier-1 | Rs. 2lakhs to Rs. 2.5 Lakhs | Rs. 2lakhs to Rs. 2.5 Lakhs |
| Expenditure in Tier-2 | Rs. 1.25lakhs to Rs. 1.75lakhs | Rs. 1.25lakhs to Rs. 1.75lakhs |
| Duration | 4 Years with internship | 2 Year |
| Mode | Regular | Regular |
| Entrance Exam            |  Yes | Yes |
| Specialization | Any language | Any language |
| Education Loan | | |
| Scholarships | | |
Career prospect
Professor
News Analyst
Missionary
 Entrance Exam
Success stories