Career in Rural Management
"Rural management is the study of planning, organizing, directing, and controlling of co-operatives, agribusiness and allied fields. It merges the knowledge of management studies and applying it in the rural context. Most of the courses are designed in such a way that the concepts taught in the class are applied in the real life through training in the rural areas through case-studies and interaction with the rural people." –Taken from Wikipedia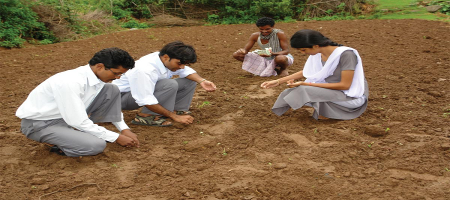 Key to Success
To be successful in Rural Management you should have/ develop:
  Ability to motivate and work as part of a team
  Ability to understand and solve problems
  Quick thinking and the ability to come up with new ideas
Scope and Opportunities
Initially the rural areas were neglected, but with the advent of development in the agriculture there are immense opportunities for the development of rural India.  With more and more agro based industries coming up the infrastructure is made in such a way that it does not harm the environment. After a bachelors degree you can go for an MBA in rural management from IRMA which is the best institute for rural management. As a graduate from rural management one can work with the government and NGO's working towards the betterment of the rural regions.
Lifestyle & Social Status
Outdoor job
Travel in remote places
Opportunities in the government as well
Job Profile
Planning for the welfare of rural area
Getting more business for the rural area
Create awareness about the technology
Develop strategies in the agro business
Skill Sets
good communication skills
analytical skills
professional  skills
presentation skills 
Work Value
Hard Work
Team Spirit
Achievement
Perfection
Current Job Scenario
             As a fresher one can earn between Rs. 15,000/- to Rs. 20,000/- depending on the organization. If you joing the government then the salaries will differ and those who work with NGO's will earn even less.
Top Recruiters
Amul milk products
NGO's
Government
Tata Teleservices
Amul
Monsanto
Shriram group
NABARD
ICICI Bank
Aditya Birla Group
National/International NGO
Hero Group
Mahindra & mahindra
Course Synopsis
| | | |
| --- | --- | --- |
| Course Options | Bachelors in Rural Management | MBA Rural Management |
| Academic Eligibility | 10+2 any stream 55% aggregate | Any graduate 55% aggregate |
| Fees | Rs 50000 – Rs 100000 per year | Rs 4,17,700/- |
| Expenditure in Metro and Tier-1 | Rs. 2 Lakhs to Rs. 2.5 Lakhs | Rs. 2 Lakhs to Rs. 2.5 Lakhs |
| Expenditure in Tier-2 | Rs. 1.25 – Rs. 1.75 Lakhs | Rs. 1.25 – Rs. 1.75 Lakhs |
| Duration | 3Years | 2Years |
| Mode | Regular | Regular |
| Approved | AICTE | AICTE |
| Affiliation | Respective University | Respective University |
| Specialization | | |
| Entrance Exam | | |
Career prospect
Officer trainee
Management trainee
Executive trainee
Rural ICT officer
Entrance Exam
In Some colleges they have exam for BA course
For MBA you can appear for CAT, MAT, XAT etc… also check for institute level exam
Success stories