Radio Jockey
"Radio Jockey or RJ is a person who hosts a live radio talk show where the RJ selects the most liked music by the people to be played, or topic of discussion, by interacting with the audience; the interaction is often via telephone, but may also be online, or email."-Taken from Wikipedia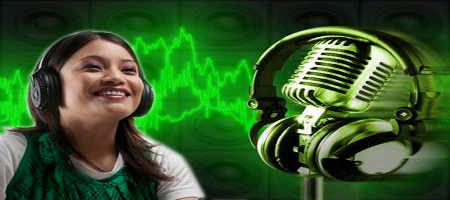 It is an exciting and challenging career for those who have an attractive voice, full of energy, latest information, countdowns and love music. One and only profession where a person is famous and recognized not by his name but by his voice.
Key to Success  
To be successful as a Radio Jockey you should have/ develop:
Good sense of humor
Good knowledge of music
Command over spoken words
Scope and opportunities
Off late, radio jockeying is viewed as a 'hot' profession achieving new height. RJ entertains the tuners by playing the requested and selected music or conveying messages attractively and subtly. Also play contests and provide information on the music, weather and traffic jams in the city. Youngsters are more attracted to this field as they have new ideas, concepts, have lots of enthusiasm and will to work hard. Radio Jockey should have good communication skills; handle the calls, interacting with the callers. Initially RJ's didn't have much scope but now with the privatization of this industry there are openings private FM stations.
Lifestyle & Social Status                                                                                                                   
There are no specific timings. A RJ has to go on air as per the demand. Being an RJ one has to be very innovative with the program. The job is completely in door.  One has to be in constant connection with the new trends.
Job Profile                                                        
Play request songs
Taking up contests for the public
Good entertainer
Skill sets
Spontaneous
Humorous
Communication
Scripting
Friendly
Well known Personalities- RJ Aditi, RJ Sangram
        Work Value
Love for Music
Talking to people
Off beat career
Current Job Scenario
A radio jockey is paid between Rs. 10000 and Rs. 18000 PM. Radio jockeys may start working for fixed salaries, but their salary increases with the growing experience. Also have opportunity to work as a voice-over artist, speaking in commercials or animated shows. Some radio jockeys work in other nation and host "desi shows", which have Indian influences.
 Course Synopsis
Course Options
   B.A. in Language
Diploma in anchoring/ RJ private courses
Academic Eligibility
10+2
Fees
Rs. 5K to Rs. 10K per annum
Rs. 25K
Expenditure in Metro and Tier-1
Rs. 2lakhs to Rs. 2.5lakhs
Rs. 2lakhs to Rs. 2.5lakhs
Expenditure in Tier-2
Rs. 1.75lakhs to Rs. 2lakhs
Rs. 1.75lakhs to Rs. 2lakhs
Duration
3 Year
1 Year
Mode
Part Time
Regular
Approved
UGC
UGC
Affiliation
Respective University
JNU, Mumbai University, Pune University
Entrance Exam
N/A
N/A
Education Loan
Scholarships
Career prospect
Radio jockey
Video jockey
Disc jockey
Entrance Exam
Success stories