International Business
International Business, the term itself defines that this business occurs among nations. This business sets a platform where in, the exchange of goods and services takes place among nations. It is the export of goods and services to foreign countries and the import of goods and services to the home country. Trade has always been a major force behind the relations among nations. Without international trade, nations would be limited to the goods and services produced within their own borders.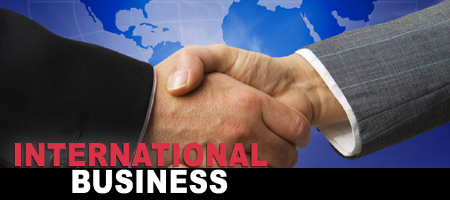 Those who work for foreign trade are known as import and export professionals or foreign trade experts. The job responsibility of a foreign trade expert involves providing guidance and assistance to businesses involved in export and import of goods and services.
Key Success
To be successful in International Business you should have/ develop:
   

A keen aptitude for business

  Knowledge of foreign languages

  Persuasive ability

  Confidence
Scope and Opportunities
The growth of foreign business and its importance to the national economy has accelerated the need for individuals who can handle the complex problems of international business, thus making international trade a lucrative profession.
Professionals can get employment in both private and public sector. From banks, to manufacturing firms to government agencies, almost all industries having subsidiaries in other countries need people with a background in international business.
In the marketing field, there is enormous scope for export and import professionals. They are employed by the export houses for boosting overseas sales, searching new business hubs and potential markets abroad.
Consultancy is one of the most sought after career for foreign trade experts. After gaining specialisation in international business from a reputed institute one can start a consultancy firm.
Working in clearing and forwarding houses as well teaching in some institutes is also an option.
Lifestyle & Social Status
Managers also have to work very hard and put in long hours at the office.
May require working at odd hours to match international timings.
Job Profile
The responsibilities assigned to a professional in this area include documentation related to export/import and liaison with the tax and custom authorities. Their work also involves liasoning between exporters and port authority.
Export managers and executives can find opportunities with insurance companies particularly marine insurance corporations where they are required to assess the loss or physical damage to the goods shipped in a country.
In the marketing field, they search new business hubs and potential markets abroad. Marketing executives also suggest strategies based on marketing research and predict demand and potential buyers abroad. They are also engaged in Customer Relationship Management (CRM).
An international business consultant is responsible for providing relevant information about foreign business investments, opportunities, competitive companies and even information about business practices and legal implications of owning a business in another country to their clients.
Skill Sets
Excellent communication skills
Excel in international business knowledge and Laws of different countries
Understanding the modern trend in business
Leadership and managing skills
Work Value
Organizing
Planning
Co-ordination
Employability Scale
A fresh postgraduate in International Business Management from a reputed institute is usually recruited as a management trainee and the salary offered ranges between Rs.5 to 12 lakh per annum. However, class B Business school pass-outs may get a lower salary to start with.
Top Recruiters
State trading Corporation (STC)
Minerals and Metals Trading Corporation (MMTC)
World Trade Organisation (WTO)
Course Synopsis
| | | |
| --- | --- | --- |
| Course Options | Post Graduate Diploma in International Business Operation(PGDIBO) | MBA International Business |
| Academic Eligibility | Bachelor's Degree from a recognized University. | Graduation with 50% marks followed by written test, .Group Discussion and Personal Interview |
| Fees | Rs 3 lakhs to Rs 5 lakhs Per Annum | Rs 8 lakhs to Rs 10 lakhs Per Annum |
| Expenditure in Metro and Tier-1 | Rs 2 lakhs to Rs 2.5 lakhs | Rs 2 lakhs to Rs 2.5 lakhs |
| Expenditure in Tier-2 | Rs 1.75 lakhs to Rs 2 lakhs | Rs 1.75 lakhs to Rs 2 lakhs |
| Duration | 2  Years | 2 Year |
| Mode | Regular | Regular |
| Specialization | | |
| Approved | | |
| Affiliation | | |
| Entrance Exam | Institute Level | CAT/XAT/MAT/Institute |
| Education Loan | | |
| Scholarships | | |
Career prospect
Import & export manager
International marketing manager
International foreign policy advisor
International trade & customs manager
Multinational manager
Entrance Exam
For MBA
CAT
XAT
MAT
SNAP
MAH MBA CET
Success stories