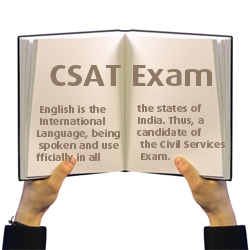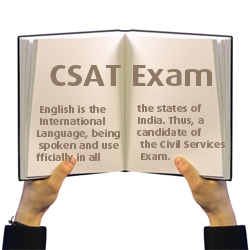 Individuals wishing to pursue a career in the Government Sector are required to clear the Civil Services Examinations (CSE) namely Civil Services Aptitude Test (CSAT). Originally the CSAT was called the Civil Service Preliminary Examinations but since 2011 it is now referred to as CSAT. This examination is conducted in 2 parts namely the CSAT and the  Civil Service Mains. (a written test and an Interview). The CSAT is conducted by the Union Public Service Commission (UPSC) for the selection of candidates of the Civil Service Mains  for recruiting candidates in to the various Civil Services of the Government of India.
For recruitment there are 24 Services or Posts namely  3 in the All India Services, 16 in Group A Services  and 5 in Group B services. The services which come within the India Services are Indian Administrative Service (IAS), Indian Foreign Service (IFS) and Indian Police Service (IPS). The services which come within Group – A are Indian Audit and Accounts Service, Indian Revenue Service (Customs and Central Excise), Indian Defence Accounts Service, Indian Postal Service etc. The services which come within Group-B are Pondicherry Civil Service, Pondicherry Police Service etc. A Candidate gets 4 attempts to clear it and it has 3 sections General Studies and Aptitude Test. For Civil Service aspirants there are a few tips that can help them in their exam preparations.
Tip 1.  English Language: this section will be assessing the candidates command over the english language, therefore the questions comprise of analogies, synonyms and antonyms, match the list, idioms, one word for many, fill in the blanks and identifying the various Figures of Speech which is a task for applicants.
Grammar: A useful tool to improve your language skills is by referring to Wren & Martin. This book is a perfect guide for improving your grammar, essay writing skills as well as your comprehension skills because it has exercises and examples for each topic. It also comes with a Key that you can use to verify if your answers are correct.
Reading and Comprehension: you need to grab a copy of the Wren & Martin as soon as possible as it has very good examples for improving your comprehension skills. It has sample passages that contains questions on most of the aspects covered in the English section.
Tip 2. General Studies: it is absolutely essential that applicants gather information on the current affairs in the Country. To be able to crack this section, your knowledge about the recent happenings in India and its surrounding Countries is important. So information about Ministers and Portfolios, Abbreviations, Top News in Business, Sports, Culture and Entertainment, Prominent Committees and their Heads, Important National and International celebrations and dates, awards and honours (Literature, Sports, Service and Films) and current affairs (December 2012 – October 2013). Here are some other tips:
Reading newspapers and magazines,
Watch Educational channels that will boost your general knowledge
To improve your knowledge of India visit www.india.gov.in as it has information about the latest happenings in the country
Pay attention to the main events in the corporate world
Information about organizations /associations like the UN and its associate agencies such as ASEAN , SAARC , NATO , BRICS etc.
Knowledge about the stocks and GK questions like countries, capitals, currencies, inventions and discoveries in science.
Tip 3. Aptitude Test: this section assess the applicants on their Reasoning, Numerical and Quantitative abilities.
1. Reasoning Ability: consists of questions based on logical, analytical and critical reasoning therefore they are framed accordingly. So whenever you read a passage don't forget to put on your thinking cap and ask your W/ H questions as often as possible.  Some other Tips are:
Practice difficult reasoning puzzles from mock papers and books on reasoning
Solving puzzles from popular puzzle books available in bookstores will also help
Focus on lengthy puzzles on distribution involving lots of variables
Practice problem figures and mirror images
2. Numerical  and Quantitative Ability: deals with mathematical operations therefore your basics should be strong. The range of topics that are covered are Coding and Decoding, Syllogisms, Venn Diagrams, Number Series, Work, Time, Speed and Distance problems, Profit and Loss, Ratios, fractions, Simple Interest, Compound Interest, Average, Mensuration, Partnership, Bar Graphs and Pie Charts and Probability.
Get Acquainted with the paper by practicing as many problems as you can and to remember the types and  formulas
Form shortcuts for the same
Students should aim to get marks ranging from 160 – 180 marks in this section alone.
Practice these sections by going through the mock CSAT papers it is the best way to perform well in this section
Tip 4. Personal Interview: this section will assess the applicant's personality. Apart from testing the applicants personality traits, the interviewer or the panel also test their academics, self awareness levels and their goals. So make sure you have your answers ready for such type of questions.
Tip 5. Choosing Subjects: when choosing subjects students should pick subjects that they prefer as  they are more likely to perform well in subjects that they are comfortable. This will not only improve your performance it will also increase you chances of success.
Tip 6. Time Management: I'm sure you've come across these words quite often so I assume that you know what they mean by now. Nevertheless, to jog your memory, you need to make use of the time that you have wisely if you wish to perform well. Create a Time Table and plan the time that you have to complete as much of the portion as you can.
Tip 7. Refrain from Procrastination: along similar lines of time management is procrastination. It means that if a task is given it is preferable to begin with the task rather than putting it off for another time and then realising that you should have done the task at the time instead of postponing it for another time. So if you have extra time make sure that you use is wisely.
Tip 8. Practice: it is essential that students refer to previous years question papers and rely on mock tests, as this will make them familiar with the paper pattern and will give them an idea about the type of questions asked. Thus, students are better prepared for the examination.
Tip 9. Join Coaching classes: this will ensure that students practice regularly and are better prepared because they can resolve the queries that they might have about a particular topic.
Tip 10. Health Matters: it is important to ensure that you get enough rest, eat a balanced diet and most importantly exercise. It is important that you sleep in time, eat properly and exercise, if you wish to perform well in the examinations because both the body and the mind need to rest to function to its maximum potential.
If you follow these simple tips, chances are that you will be able to perform well and increase your chances of  getting selected for the Civil Service Mains. For more information you can visit our website www.careerfutura.com.