Advertising
Advertising is a vital form of communication for major purposes such as marketing, distributing information to wide spread audience. It can be done through various mediums like – Newspaper, Magazine, Radio, Internet, Television, Mobile and hoardings at public places. Actually it engulfs every aspect of your life.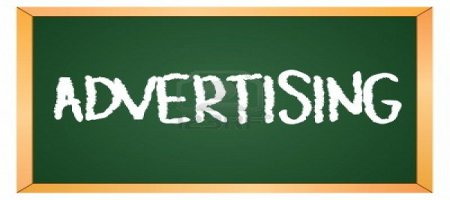 Career in advertising is quite glamorous but also challenging. Now-a-days advertising has expanded to new areas like event management and image management.
Key to Success 
To be successful in Advertising you should develop:
Ability to interact with people from all walks of life
Work as part of team
Able to handle high pressure and criticism
Practical temperament
Good observation of various culture, communities their lifestyle
Creative mind
Scope and Opportunities
In advertising career there are two different areas wherein the person can find job opportunities these are executive side and creative side.
The executive department takes care of servicing the client, planning and market research
The creative department offers jobs for visualizing, copywriters, script writers, creative artists
With growing literacy, consumer awareness and both local and multinational companies trying to promote their products to the masses, this career is rapidly emerging as one of the best careers 
Lifestyle & Social Status
Job Activities can be both indoor and outdoor
Need to work 24×7
Opportunity to meet key persons from all walks of life like film/sports/political/industrial celebrities
Advertising profile known as creative people
Well known Creative Minds -  Rajiv Rao ( Vodafone ZooZoo Idea)
Job Profile
Executive Department
a. Client Executive/Account Manager
In executive department, account executive is one of the major opening wherein they lead to understand client's need, plan the advertising campaign and coordinate the working progress with the creative team and client
Account executive is responsible for coordination with various media channels
Account executive needs to handle budgets, manage campaign costs and invoicing clients
b. Market Research Analyst
This person needs to carry out research before planning out any campaign, in order to explore possible markets for the products
Analyze statistical data from past sales to future sales; provide information to management on promotion, distribution, design and pricing of products or services
c. Media Executive
Study newspaper statistics, television audience figures (TRP), customers buying habits, different income groups statistics
Determine which media can be the best mode for advertising such as newspapers, magazines, radio, internet, television, mobile and hoardings at public places.
Negotiate and purchase advertising slots and time with different medias
Creative Department
Copywriters

Create the advertising message
Co-ordinate with research department and account executives
Scriptwriters

Plan and write television or radio commercials and advertising films

Visualizing

These people are known as layout artists
They work along with copywriters to produce the required graphic interpretation for the campaign
Skill sets
Should have good artistic vision
Should be able to translate ideas into visual format
Creative with originality and imagination
Good vocabulary
Good interpersonal and communication skills
Work Value
Sense of tight deadlines
Punctuality
Teamwork
Socialite
Current Job Scenario
With liberalization of Indian economy, new products and services are being created for public. The best way to promote these products or services is through advertisement. Advertising careers are plenty in India; the pay package will depend on individual's capabilities, the size of advertising agency and their client base. Promotions are always linked to ability with some factors of success and luck. Perform or perish is the rule of this domain.
Top Recruiters
There are more than 200 large cities in India. Every city has atleast 50 advertising agencies. Of these 50 the best ones are listed below.
Mudra Communication
Ogilvy & Mather
J Walter Thompson
FCB Ulka Advertising Ltd.
RK Swamy BBDO Advertising Ltd
Course Synopsis
| | | |
| --- | --- | --- |
| Course Options | Post Graduate Diploma in Advertising & Public Relations | B.A  with Advertising, Sales Promotion and Sales Management – Check BFA/BBA/B. Mass communication.(3-5 lacs) |
| Academic Eligibility | Any graduate students are selected through an all-India entrance examination. | Any 12th pass |
| Fee | Rs. 48000/- | Rs. 22000 to 30000/- |
| Overall expenditure in Metro | Rs. 2 Lakhs to Rs. 2.5 Lakhs | Rs. 2 Lakhs to Rs. 2.5 Lakhs |
| Overall expenditure in Tier-1 | Rs. 1.25 – Rs. 1.75 Lakhs | Rs. 1.25 – Rs. 1.75 Lakhs |
| Overall expenditure in Tier-2 | Rs. 70K – Rs. 1.1 Lakhs | Rs. 70K – Rs. 1.1 Lakhs |
| Duration | 1 Years | 3 Years |
| Mode | Regular | Regular |
| Approved | Ministry of Information and Broadcasting, Government of India | UGC |
| Affiliation | IIMC | University Of North Bengal |
| Entrance Exam | All India Entrance Test |  - |
| Education Loan | | |
| Scholarships | | |
Career Prospect
Advertising, Promotions and Marketing Manager
Advertising Sales Representative
Film and Video Editor
Meeting, Convention and Event Planners
Graphic Designer
Market Research Analyst
Entrance Exam
IIMC advertising and public relation entrance exam
Common Aptitude Test
Management Aptitude Test
Xavier's Aptitude Test
University of Delhi conducts a Combined Entrance Examination
National School of Drama entrance exam
National Institute of Fashion Technology Entrance Exam
MICA Entrance Test
Success Story