Biotechnology
Biotechnology is an interdisciplinary technology that modifies products or processes for specific use by using knowledge, method and expertise from chemistry, biochemistry, microbiology, genetics, chemical engineering and computer science. The fusion of technology with knowledge creates what the world once assumed as miracles and biotechnology can be considered as a perfect example where the knowledge of biology when blended with technology is making the world a better place by enhancing the quality of life and alleviating the human sufferings.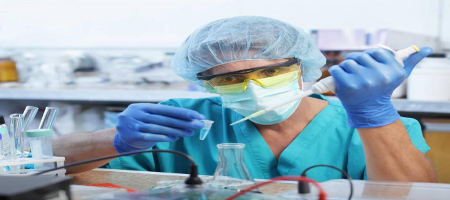 Biotechnology has touched almost every aspect of human life and has carved its niche too. Biotechnology dealing with medical and health care is termed as Red biotechnology. It is Green biotechnology, when it concerns about agricultural processes and White biotechnology when comes to industrial processes.
Key to Success
To be successful in Biotechnology you should have/ develop:
Good intelligence
Ability to concentrate for long hours
Capacity for original thoughts
Perseverance
Going to the bottom of the problem
Constantly acquiring knowledge
Scope and Opportunities
Recent advances in biotechnology are helping us prepare for and meet society's most pressing challenges.
Biotech is playing the major role to heal the world by harnessing nature's own toolbox and using our own genetic makeup to heal and guide lines of research by: Reducing rates of infectious disease; saving millions of children's lives.
Biotech uses biological processes such as fermentation and harnesses biocatalysts such as enzymes, yeast, and other microbes to become microscopic manufacturing plants. Biotech is reducing the use of and reliance on petrochemicals; using biofuels to cut greenhouse gas emissions; decreasing water usage and waste generation.
Biotech enhances the crop insect resistance, crop herbicide tolerance and facilitates the use of more environment friendly farming practices. Biotech is helping to feed the world by: Generating higher crop yields with fewer inputs; Developing crops with enhanced nutrition profiles that solve vitamin and nutrient deficiencies.
Lifestyle & Social Status
It's mostly an indoor activity
Working in labs
Job Profile
Entry-level biotechnologists can work as research technicians. They set the laboratory which is used to conduct and monitor experiments and they also assemble the tools such as centrifuges, flasks and spectrophotometers. They also record data and may prepare reports for a leading research scientist.
Senior biotechnologists develop the research procedure and do the detailed analysis of the data using scientific methodology, a scientist using recombinant DNA technology must choose the best method to insert foreign DNA into an organism, which can trigger development of new proteins or create an organism with more desirable characteristics.
Skill Sets
 Critical Thinking
Analytical skills
Complex Problem Solving
Judgment and Decision Making
Mathematical skills
Computer knowledge
Work Value
Challenging
Autonomy
No monotony in work
Innovation
Current Job Scenario
Career opportunities for biotechnology students are abound. Those specializing in different sub-disciplines of this field can easily find jobs in both private and government sector undertakings. If you have acquired a post-graduate degree in biotechnology then you can easily find a suitable position in number of industries.
Major recruiters include industries engaged in processing and developing agricultural and biological products, bio-processing industries, pharmaceutical and chemical industries. There are ample opportunities in industries producing healthcare products, textile industry, cosmetics and organizations engaged in different types of industrial research and development.
Top Recruiters
Biocon
Serum Institute of India
Nicholas Piramal
Wockhadrt Limited
GlaxoSmithKline
Zydus Cadila
Hindustan liver ltd
Thapar group
Indo American hydro seed
IDPL
India vaccines corporation
Hindustan antibiotics
NCL
Tata engineering research institute
Course Synopsis
| | | |
| --- | --- | --- |
| Course Options | Bachelor in Biotechnology | B. Tech (Biotech) |
| Academic Eligibility | 10+2 with PCM | 10+2 pass and minimum 60% in 10+2 (PCM). |
| Fees | Rs. 1.50 Lakhs to Rs.3.50 Lakhs | Rs. 4.00  Lakhs to Rs. 6.00 Lakhs |
| Overall expenditure in Metro and Tier-1 | Rs. 2 Lakhs to Rs. 2.5 Lakhs | Rs. 2 Lakhs to Rs. 2.5 Lakhs |
| Overall expenditure in Tier-2 | Rs. 70K – Rs. 1.1 Lakhs | Rs. 70K – Rs. 1.1 Lakhs |
| Duration | 3 Years | 4 Years |
| Mode | Regular | Regular |
| Specialization | Animal biotechnology, industrial biotechnology, seri biotechnology, aquaculture and marine biotechnology, medical biotechnology, microbial biotechnology and food biotechnology | |
| Approved | UGC | UGC |
| Affiliation | Respective University | Respective University |
| Entrance Exam | | |
| Education Loan | | |
| Scholarships | | |
Career Prospect
Lab research technician
Biological professor
Biological research & analyst
Biological scientist
Biologist
Medicine research
Product development scientist
Agricultural consultant
Process development scientist
Research & development
Entrance Exam
For B.Tech in Biomedical – JEE, JEE Advanced and State Level Entrance Exams
For B.Sc in Biomedical – Admission process takes place on merit basis 
Success Stories