Pet Grooming
Pet grooming is an amusing and gratifying career for those having love and care for animals. Pet groomers are those professionals who specialize in grooming or maintaining a pet's appearance. They take special care of animals and look after their hygiene and appearance by variety of grooming techniques. Being a pet groomer provide valuable service to the pet owners.
Pet groomers mainly groom cats and dogs; some even groom other animals like rabbits and horses. As pet owners are more focusing on their pets care and maintenance the demand for Pet groomers is increasing.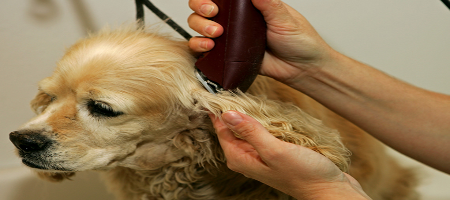 Key to Success
To be successful in Pet Grooming you should have/ develop:
  Inherent and genuine liking and love for animals
  Be able to handle nervous, aggressive, or fidgety animals
  A good eye for detail
  An artistic eye to visualize and create a look for the pets, keeping close to the standards of pet shows.
Scope and opportunities
Workers in this employment group may be self-employed or work for places such as :
Breeding and boarding kennels
zoos, laboratories, retail pet shops
dog training schools pet grooming establishments
Experienced Groomers can be a supervisor or a manager
 Lifestyle & Social Status
Must be prepared to work till late in the evening and even on weekends.
It can be 24/7 job
Its indoor as well as outdoor job
Job Profile
Pet Groomer:
Groomers maintain the pet's appearances. Their work may also include brush-out followed by a first clipping of hair or fur using electric clippers, combs, and grooming shears.
Groomer maintains the nails, cleans the ears, bathes, and blow-dries the animal, and ends with a final clipping and styling. Massaging and perfuming is enjoyed by pet groomers.
Pet groomers work with a variety of breeds and sizes. Scheduling appointments, discussing pets' grooming needs with clients, and collect general information on the pets' health and behavior is general work.
Skill set
  Self motivation
  Persistence
  patience
  genuine care for animals
Work Value                              
Dedication
Commitment
responsibility
Current Job Scenario
Pet groomers earn depending on their work, business and customer service skills, and the number of pets they can groom in a day. Self-employed groomers can charge on hourly basis and according to the size or breed of the animal being groomed.
Initially, Pet groomers can earn around Rs 10,000 to Rs 25,000 PM and can earn more working in abroad.
Top Recruiters
Pet shops and Salons run privately
Course Synopsis
Course Options
Course in animal handling
Academic Eligibility
10+2 in any stream
Fees
 Rs.80,000 to

Rs. 1,00,000

Overall expenditure in Metro and Tier 1
Rs. 2lakhs to Rs. 2.5 Lakhs
Overall expenditure in Tier-1
Rs. 2lakhs to Rs. 2.5 Lakhs
Overall expenditure in Tier-2
Rs. 1.25lakhs to Rs. 1.75lakhs
Duration
2 Months to 1 Year
Mode
Regular

* Another way of learning pet grooming is under an expert.
Career prospect
Scoopy scrub
Fuzzy wuzzy pet styling studio & spa
Pooche mate
Red paws pet spa & shop
 Entrance Exam
Success stories