Career in Photojournalism      
Photo journalism is a particular form of journalism (the collecting, editing, and presenting of news material for publication or broadcast) that creates images in order to tell a news story. It is now usually understood to refer only to still images, but in some cases the term also refers to video used in broadcast journalism. Photojournalism is distinguished from other close branches of photography (e.g., documentary photography, social documentary photography, street photography or celebrity photography) by complying with a rigid ethical framework which demands that the work is both honest and impartial whilst telling the story in strictly journalistic terms. Photojournalists create pictures that contribute to the news media. (Taken from Wikipedia)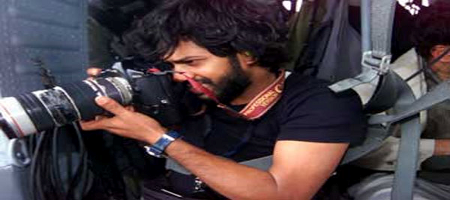 Key to Success
a keen, observant eye
an intelligent, curious and perceptive mind
creativity
eye for detail
ability to work under pressure
Scope and Opportunities
There is huge scope for Photojournalism in almost every communication media such as newspaper, television, magazines, etc.
Lifestyle & Social Status
Travel a lot of places
Work in all weather conditions
 Job Profile
Take superior quality, easy-to-read, candid, truthful and factual images
Assist the reporters
Conduct interviews to verify news stories
Calling to sources or clients to schedule the time and place for photo session
Develop and edit the film of captured images, adjust the color and tone of images
Handle variety of cameras
 Skill Sets
full knowledge and command over the variety of cameras, lights and props, and all kinds of photographic techniques
have a sense of light and shade and the magic of colours
able to interpret a client's needs, translating their ideas into images that work
think and communicate in visual terms
Work Value
Flexible
Patience
Determination
Target-oriented
Current Job Scenario
Trainees can earn between Rs. 10000 to Rs. 15000 per month, after getting experience of 4 to 7 years you can earn between Rs. 50000 to Rs. 1 lakh per month.
Top Recruiters
Times of India
India Today
Course Synopsis
Course Options
Photography
 
Academic Eligibility
10+2 any graduate
 
Fees
Rs. 65,000/-
 
Expenditure in Metro and Tier-1
Rs. 2 lakhs to Rs. 2.5 lakhs
 
Expenditure in Tier-2
Rs. 1.75 lakhs to Rs. 2 lakhs.
 
Duration
1Years
 
Mode
Part time
 
Approved
UGC
 
Affiliation
Respective University
 
Specialization
 
Entrance Exam
Institute Specific
Career prospect
Commercial photographer
Newspaper photographer
Owner/photographer
Photo editor
Photographer
Photojournalist
Portrait photographer
Special effect  editor
Sports photographer
Studio owner
Advertising photographer
Video editor
Entrance Exam
Success stories