Physiotherapy
In simple terms, Physiotherapy means physical therapy. Applying Physiotherapy exercises, diseases and physical disorders can be cured. Physiotherapy is considered as oldest therapy to cure various physical ailments, it has evolved from simple massage to a complex varieties of therapies having multiple and specialized applications. It is very much related to health profession hence making a career in Physiotherapy is a good decision.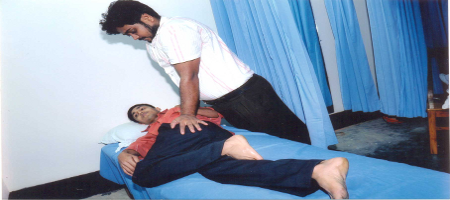 Key to Success
To be successful in Physiotherapy Industry you should have/ develop:
Deep Knowledge in the field
Self-confidence
Responsibility
Physically Strong and Flexible
Good communication
Counseling skills
Scope and Opportunities
As physiotherapists treat a wide range of disorders, their pace is increasing. On completing physiotherapy course one can go for specializations in geriatrics, sports physiotherapy, pediatrics, orthopedics, neurology and cardiopulmonary physiotherapy. Physiotherapist can work in India as well as in other nations.
Lifestyle & Social Status
A lot of integrity and patience is required to excel in this field. Job is quite challenging for a physiotherapist but it is profitable too. Moreover, they are qualified to perform physical examination and conduct assessments to detect a diagnosis process. In order to treat dysfunction and monitoring of treatment they select appropriate physical therapy interventions. A successful Physiotherapist uses various therapeutic intervention techniques to treat a patient in the best possible manner.
Job Profile
After graduation you work in various departments under senior physiotherapist implementing advised therapy by doctors or post graduates of Physiotherapy are generally employed as:
Sports Physiotherapy: Sports related injury, fitness maintenance and improvement in sports strategy. Sports Physiotherapists have good pace in foreign countries like USA, Canada, and Australia. Area of specialization covers sports, musculoskeletal,  cardiopulmonary significance on special techniques like sports taping, sports massage, on field management of injury.
Musculoskeletal Physiotherapy (Orthopedics): Area of specialization covers muscles, bones, and joints. It involves treating acute or chronic conditions such as arthritis, bursitis, spasms, sprains, strains, and tendonitis, and improved rehabilitation following injury or surgery. Orthopedic physiotherapists diagnose, manage, and treat disorders and injuries of the musculoskeletal system as well as rehabilitation after orthopedic surgery. Joint mobilizations, strength training, hot/cold packs, Wax bath, Electrotherapy modalities like electrical stimulation, Ultrasound, IFT, TENS, SWD are often used to expedite recovery in the orthopedic setting.
Cardiopulmonary Physiotherapy: Area of specialization covers the function of the cardiorespiratory system. Increasing strength and functional independence. Manual therapy is used in this field to assist in clearing lung secretions experienced with various cariorespiratory disorders. Cardiothoracic physiotherapists mainly work in hospitals or rehabilitation clinics, treating patients with chronic obstructive diseases of the airways (such as asthma, chronic bronchitis, or emphysema) or providing improved rehabilitation for patients following any general, cardiac, or thoracic surgery and recovery of patients in intensive care units (ICU).
Neurological Physiotherapy: Neurological physiotherapy is a discipline concerned with disorders of the nervous system; neurological physiotherapists assess the impact of neurological conditions (like Cerebral Palsy, Parkinson's disease or multiple sclerosis) and neurological trauma (such as head or spinal injuries, strokes, or brain surgery) on patients' normal bodily functions and movements. Symptoms of neurological disorders include paralysis, vision impairment, poor balance, inability to ambulate, and loss of functional independence. Therapists work on these areas of dysfunction. They also design and implement strategies that can assist in the recovery of normal function, usually in conjunction with other medical or health care professionals.
Geriatric Physiotherapy: This area of specialization usually focuses on the olders. Arthritis, osteoporosis, cancer, Alzheimer's disease, hip and joint replacement, balance disorders, incontinence, etc are some disease affect olders. Geriatric physiotherapy organizes a specialized program to help restore mobility, reduce pain, and increase fitness levels.
Pediatric physiotherapy: Detection of early health problems and treating by using a wide variety of modalities to treat disorders in the pediatric population. They specialize in the diagnosis, treatment, and management of infants, children, and adolescents with a variety of congenital, developmental, neuromuscular, skeletal, or acquired disorders or diseases. Treatments improve gross and fine motor skills, balance and coordination, strength and endurance as well as cognitive and sensory processing or integration. Children with developmental delays, cerebral palsy, spina bifida, or torticollis, may be treated by pediatric physiotherapists. Other areas of specialization are also available e.g. Rehabilitation, Pediatrics, Geriatrics, Manual therapy, Gynecology and so on.
 Skill set
Good at communicating
Skilled at decision-making and problems-solving
Motivated and organised
Observant, methodical and accurate
Able to work well under pressure
Skilled at analysing and interpreting information
Work Value
Relief from stress
Job Security
Financial stability
Increase in concentration power, with an enhanced focus
Current Job Scenario
One of the fringe benefits is that they can practice in different places. Hospitals, clinics, rehabilitation centers, schools, offices, factories, fitness centers, and sports clubs and even in the homes of patients is another option for practicing. They can be hired by healthcare companies and they can be self-employed professionals. Demand for physiotherapists in the USA, Canada and Australia and now in India too is rapidly increasing. Lifestyles and lack of exercise leads to body aches and pains, which requires specialized physiotherapists.
 Top Recruiters
Centres for physically and mentally challenged people
Community health centres
Government hospitals
Mental health centres
Private and public hospitals
Private practices
Rehabilitation centres
Sports clinics and fitness centres
Course Synopsis
Course Options
Bachelor of physiotherapy

 

Masters in Physiotherapy
Academic Eligibility
10+2 (Science-Biology)
A bachelor degree in physiotherapy
Fees
Rs. 4.5 to Rs. 6lakhs
Rs. 3.5 to Rs. 4lakhs
Expenditure in Metro and Tier-1
Rs. 2 Lakhs to Rs. 2.5 Lakhs
Rs. 2 Lakhs to Rs. 2.5 Lakhs
Expenditure in Tier-2
Rs. 1.25 – Rs. 1.75 Lakhs
Rs. 1.25 – Rs. 1.75 Lakhs
Duration
4 ½ Years (Including 6 Months Internship)
2 Year
Mode
Regular
Regular
Approved
MCI
MCI
Affiliation
Respected University
Respected University
Specialization
v  Physiotherapist

v  Cardiovascular & pulmonary

v  Geriatric

v  Integumentary

v  Neurological

v  Orthopedic

v  Clinical electrophysiology

Entrance Exam
State Level CET or NEET
State level entrance
Career prospect
Acupuncture
Beauty therapist
General nurse
Occupational therapist
Physiotherapist
Radiation therapist
Respiratory therapist speech therapist
Yoga therapist
Entrance Exam
NEET – National Level Exam
State and Universities has their own entrance exam
Success stories