Plant Pathologist
Plant Pathologist is a professional who takes care of the health of plants. With the growing population on the earth the demand for the food, medicines and other necessities is increasing rapidly at the same time available minerals and resources of the earth are degrading day by day. Hence it is essential to maintain the quality as well as the quantity of the available consumable biological resources of the earth. To keep up with the quality and quantity of these resources we require plant pathologists.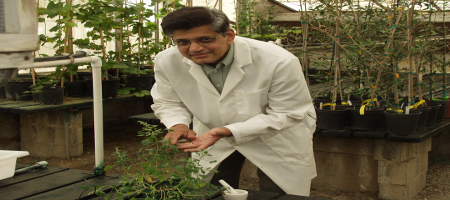 Key to Success
To be successful in Botanist you should have/ develop:
Basic research
Knowledge of living organisms
Increase crop yields
Planning programs for food and drug testing
Managing a botanical garden
Scope and opportunities
Plant Pathologist is the doctor of plants just like a physician who is the doctor of humans. To become a plant pathologist immense knowledge is required about the organisms that cause diseases of the plant and you also need to know how the plant growth is affected by these diseases. Plant Pathologists are the ones who study subjects like botany, microbiology, ecology, etc. and have a passion for plants.
Plant pathologists in their work collaborate with plant breeders and crop management, insects and weed specialists in developing integrated, environmentally sound approaches to managing crops and their pests.
With the growing interest in the quality of our global environment and increasing global demand for high-quality food, fiber, tree and ornamental plants provides many opportunities for plant pathologists.
Lifestyle & Social Status
This is a complete outdoor profile for highly sprit of adventurous personality. It requires capacity to work long hours, a genuine interest in the preservation of the natural environment and habitat, inclination for research, curiosity, excellent skills of observation, interest in agriculture and geography. Botanists need to spend most of their time far from their family and friends.
Job Profile
Organizes research in nature, cause, and control of plant diseases and decay of plant products: Examines and compares healthy and diseased plants to observe symptoms of diseased condition.
 Introduce healthy plants with culture of suspected agents taken from diseased plants and studies effects to determine agents responsible for disease.
Seclude disease-causing agent, examines habits and life cycle, and plan methods of destroying or controlling agent.
 Examines rates of spread and intensity of disease under different conditions of soil, climate, and geography, and predicts outbreaks of plant diseases.
 Studies types of plants and insects that harbor or transmit disease.
 Determines losses from deterioration of perishable plant products in transit or storage and develops practices to prevent or reduce losses.
 Examines presence of disease producing agents in seed stocks to reduce losses from seed borne diseases.
 May specialize in type of plant affected, such as cereal crops, fruit, or forest trees, or by type of disease, such as bacterial, virus, fungus, mycoplasma, or nematode.
 May examine flower and vegetable seeds and flowering bulbs for diseases, infections, and insect injuries.
Skill set
Decision Making Ability
Public relations Skills
Organizing ability
Scientific Temperament
Inclination for Research
Excellent skill of observation
Work Value
Interest in agriculture and geography
Courage
Spirit of Adventure
Independent Management
Wildlife education
Current Job Scenario
Plant Pathologist can earn depending on their academic qualification, institute or university from which the degree is completed and based on the level of work experience. Beginners can earn between Rs.1, 00,000 to Rs.1, 50,000 PA.
Top Recruiters
Enormous employment opportunities are available for Plant Pathologist in private as well as public sector organizations. Plant Pathologist jobs are available in government agencies, and many private organization's R & D agencies. One can also qualify NET examinations conducted  by ASRB(ICAR) and CSIR for direct eligibility as professor in any college or higher education institute having a plant pathology department or allied research labs etc.
Course Synopsis
| | | |
| --- | --- | --- |
| Course Options | B.Sc Botany, Agriculture | MSc Botany, Agriculture |
| Academic Eligibility | 10+2 PCM aggregate 60% | B.Sc Physics + entrance exam |
| Fees | Rs. 10K to Rs. 15K per annum | Rs. 40K per annum |
| Expenditure in Metro and Tier-1 | Rs. 2lakhs to Rs. 2.5lakhs | Rs. 2lakhs to Rs. 2.5lakhs |
| Expenditure in Tier-2 | Rs. 1.75lakhs to Rs. 2lakhs | Rs. 1.75lakhs to Rs. 2lakhs |
| Duration | 3 Years | 2 Years |
| Mode | Full time | Fulltime |
| Specialization | | |
| Approved | UGC | UGC |
| Affiliation | Respective University | Respective University |
| Entrance Exam | | Yes |
| Education Loan | | |
| Scholarships | | |
Career prospect
Assistant professor
Junior researcher
Scientist
Plant scientist
Entrance Exam
Success stories