Sericulture
The process of making silk by farming silkworm is known as Sericulture. This comes under the agriculture sector which deals with the specialized cultivation of mulberry and extraction of silk post the formation of the cocoon. Sound knowledge of technology is added value.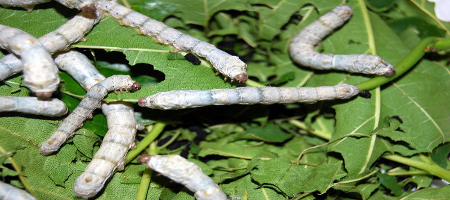 Key to Success
To be successful in sericulture you should have/ develop:
  Good health
  Keen observation
  Adaptability to new techniques
  Ability to deal with unexpected climates
Scope and opportunities
Sericulture focuses on career in Government Research Centers, Silk boards, and private textile firm. One can start his own unit also.
Lifestyle & Social Status
It's an outdoor activity under all weather conditions.
It's a rural life.
Job Profile
In this field if one chooses to work in sericulture one has to dirty his hands while cultivating the farms.
The individual has to deal with worms and be very gentle while handling cocoon.
The tasks involves preparing the land for cultivation, sowing the seeds; irrigate the land on a timely basis, use appropriate fertilizers and pesticides as and when required.
One has to cultivate Mulberry, Sugarcane and Turmeric for raising the worms.
Observe the worm in the growing phase.
Check the weight of the worm at regular intervals once it turns into a cocoon.
To obtain silk one has to take care as to not to damage the cocoon, to obtain silk, undamaged cocoons have to be brushed to find the filament. This obtained silk is the raw silk.
Skill sets
 Innovation
Research skills
Work Value
Love for Nature
Autonomy
Work with his (or her) hands
Current Job Scenario
Initially professionals having proper training can earn salary Rs 15000/- PM in public sector and even higher in private sector and NGOs. If you set out to  own a sericulture farm then earning potential can be very good.
Top Recruiters
Sher-e-Kashmir University of Agricultural Sciences And Technology – Jammu
Maya Organic
Nagarjuna Agro Chemicals Pvt. Ltd.
Bundelkhand University, Jhansi
ELAND International
Course Description
Course Options
B.Sc. Agriculture
Diploma in Sericulture Technology and Management (DSTM) by CSRTI, Mysore
M.Sc Sericulture
Post Graduate Diploma in Sericulture by CSRTI
Berhampore & CTRTI
Ranchi
Academic Eligibility
10+2 with biology, maths and chemistry
B.Sc. (Agriculture)
B.Sc. (Agriculture)
Fees
Rs 5000 – Rs 10000 per year
Rs 5000 – Rs 10000 per year
Rs 5000 – Rs 10000 per year
 Rs 5000 – Rs 10000 per year
Expenditure in Metro and Tier-1
Rs. 2 Lakhs to Rs. 2.5 Lakhs
Rs. 2 Lakhs to Rs. 2.5 Lakhs
Rs. 2 Lakhs to Rs. 2.5 Lakhs
Rs. 2 Lakhs to Rs. 2.5 Lakhs
Expenditure in Tier-2
Rs. 1.25 – Rs. 1.75 Lakhs
Rs. 1.25 – Rs. 1.75 Lakhs
Rs. 1.25 – Rs. 1.75 Lakhs
Rs. 1.25 – Rs. 1.75 Lakhs
Duration
3/4 Years
6 Months
2 Years
 15 Months
Approved
UGC
UGC
Affiliation
Respective University
Respective University
Entrance Exam
Yes
Education Loan
Scholarships
Entrance Exam
All India Level
ICAR-AIEEA
Success Stories