Sports Coaching
A Sports Coach is a person who directs, gives instructions and training of sports to the team or to the sports person. The staff includes coordinators, strength and fitness specialists, and trainers. Love for sports is universal. Coach plays an important role in ensuring safety for teenage athletes.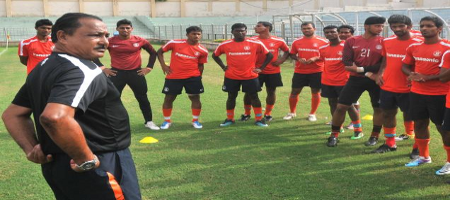 Key Success
To be successful in Sports Industry you should have/ develop:
 

Quick Learner

  Athletic built and veteran player

  Great Communicator with Teaching Skills

  Thourough knowledge about the sport

  A Good

Motivator
Scope and opportunities
A career in coaching is rapidly growing. Special coaches are required for each game and athletic event. More and more parents are inclined towards sending their children to learn some form of sports, so also all schools are participating in certain sports on Zilha level to Nationals; they also need qualified sports coach.
Lifestyle & Social Status
It's an outdoor activity
In the initial year you have to struggle till your name is established, if you want to be a personal coach.
The coach need to travel with the students for various tournaments within the country as well as outside the country.
A coach has a relaxed and healthy life style.
Job Profile / Tasks
Sport Coach examines and selects potential players, instructs the rules of the games, illustrates the techniques of the play, keenly observe players movements in action and offer helpful tips and useful methods. They accompany their players during tournaments and give the necessary guidance as well as boost the players.
As a coach one has to observe the students development in the sport.
The lessons or rather workouts need to be planned depending on the student's progress.
The coach needs to monitor the student's fitness
The workout needs to be designed depending on the player's stamina.
Skills
Several years of experience and training
Patience, perseverance and a sporting spirit
Communication and business skills
Psychomotor and physical conditioning
Understanding of how the mind and body works
Good organizational skills
Work Value
Born Motivator
Love outdoor activity
Love to create winners
Employability Scale
Sport Coach earns as per the sport and the level. Initially, a coach earns between Rs. 7,000/- to Rs. 12,000/- PM and with the growing experience and up gradation a coach earns between Rs. 35,000/- to Rs. 50,000/- other than the tournaments.  The Personal coach's fees and expenses differ depending on the sports & his reputation.
Course Description
To start a career in coaching, one must be equipped with the right educational and training background. Nowadays, there are several institutions in India that offers such courses/degree.
Some of the institutions that specifically offer a Diploma in Coaching are:
Netaji Subhash National Institute of Sports, Montibagh, Patiala Punjab
National Sports East Centre, Salt Lake City, Sector-III, Calcutta, West Bengal
National Sports West Centre, Sports Complex. Sector-15, Gandhinagar, Gujarat
To do a course from any of the above institutes one must be a graduate in any field and one must have participated at the national level in the sport in which they want to take up coaching.
| | |
| --- | --- |
| Course Options | Sports Coaching |
| Academic Eligibility | National level players with any graduation |
| Fees | Rs. 50K per annum |
| Expenditure in Metro and Tier-1 | Rs. 2lakhs to Rs. 2.5lakhs |
| Expenditure in Tier-2 | Rs. 1.75lakhs to Rs. 2lakhs |
| Duration | 1 Year |
| Mode | Full time residential |
| Specialization | |
| Approved |   Sports Authority of India |
| Affiliation |   Government of India |
| Entrance Exam | |
| Education Loan |   |
| Scholarships |   |
Career prospect
Sport club manager
Sport event manager
Athletic director
Sports manager
Places where Sports Coach required:
Health clubs
Sports club
Ministry of sports
Stadium staff
Gymnasium
Corporate teams
Health & sports related organization
Entrance Exam
Success stories