Speech and Language Therapist
Speech and hearing disorder can affect  oral communication. Language pathologist and audiologist are on high swing at national and the international level. Diagnosis and rehabilitation services are provided to the affected people.
Speech therapist diagnoses and treats patients from all age group along with counseling on speech, voice and language and hearing problems due to various causes, such as intellectual disability, autism, cerebral palsy, strokes, accidents and cancer. Institutes offer degrees in speech-language pathology, or speech therapy coupled with the audiology course at undergraduate and postgraduate levels. However, some conduct PG programs either in speech-language pathology or audiology.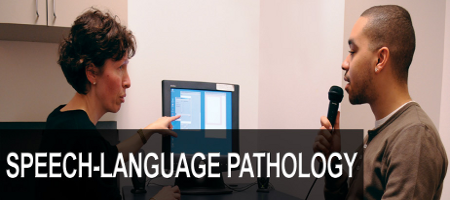 Key to Success 
To be successful as speech and language pathologist you should have/ develop:
  A genuine interest in people, and language
  Patience
  Ability to work with all kinds of social/cultural and age groups
  Problem Sensitivity
  Speech Clarity
   Scope and opportunities
Speech language pathologists and audiologists diagnose with advanced treatment procedures in operating patients. Working with Medical and other rehabilitative professionals adds experience and gets major clinical responsibility at preventing communicative disorders, including occupational hearing conservation, early identification and intervention. Also, the community language pathologists and audiologists will play crucial role in the education sector, health care system and disability rehabilitation centers of the country.
Speech therapists can be employed  in other developed nations, in government as well as private hospitals, special schools, non-governmental organizations focusing on the speech and hearing disabled.
  Lifestyle & Social Status
Working with children
Ready to work in any environment
Social service
       Job Profile
Examining children's developmental speech and communication problems
Assessment of communicating environment
Monitoring and evaluating clients progress
Planning and delivering training sessions
 Skill set
Information gathering
Communication
Critical thinking
Psychomotor/physical
Emotional stability
Work Value
Responsibility
Flexible
Working for Social Cause
 Current Job Scenario
Initially, these therapists can earn between Rs.15, 000 to Rs.20, 000 PM and increases with the growing experience and grow between Rs. 50,000 to Rs. 75,000 PM with experience and knowledge.
Top Recruiters
These are the places where a speech pathologist works.
Schools
Hospitals
 NGO'S
 Rehabilitation centers
 Government departments
 Institutions and research.
Course Synopsis
| | | | |
| --- | --- | --- | --- |
| Course Options | B.sc Audiology, speech hearing | M. sc speech hearing with internship | M.Ed speech hearing |
| Academic Eligibility | 10+2 group recognized board/university or its equivalent qualification with minimum 50% marks and between 17 to 25 age. | B.sc speech hearing | M. sc speech hearing with internship |
| Fees | Rs 15000 – Rs 20000 per year | Rs 15000 – Rs 20000 per year | Rs 15000 – Rs 20000 per year |
| Expenditure in Metro and Tier-1 | Rs. 2 Lakhs to Rs. 2.5 Lakhs | Rs. 2 Lakhs to Rs. 2.5 Lakhs | Rs. 2 Lakhs to Rs. 2.5 Lakhs |
| Expenditure in Tier-2 | Rs. 1.25 – Rs. 1.75 Lakhs | Rs. 1.25 – Rs. 1.75 Lakhs | Rs. 1.25 – Rs. 1.75 Lakhs |
| Duration | 3 years | 2 Years with internship | 1 year |
| Mode | Fulltime | Fulltime | Fulltime |
| Entrance Exam | | | |
| Specialisation | | | |
| Education Loan | | | |
| Scholarships | | | |
Career prospect
Speech language pathologist
Speech therapist
Clinic assistant
Entrance Exam
AIIMS UG (All India Institute of Medical Sciences) Under Graduate Entrance Exam
NEET-UG (National Eligibility cum Entrance Test) Under Graduate Entrance Exam
PGIMER UG Entrance Exam
JIPMER UG Entrance Exam
GGSIPU UG Entrance Exam
Manipal University Entrance Exam
 Success stories