Zoology
Zoology is the branch of biology, this branch deals with animal kingdom, which collectively involves the study of animals and about their life. The subject focus and draws our attention towards how animals think, why they act the way they do, where they live and why, how they have adapted to the environment, and much more interesting facts.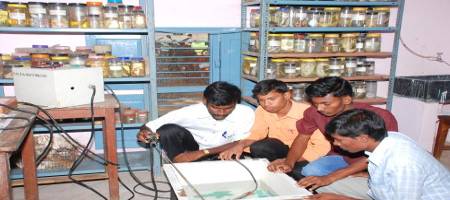 Zoologists are considered scientists who basically studies about animal life such as the structure, life processes, behavior, evolution, growth, development, habitat, conservation and classification of animals. Virus or a bacterium, fishes, birds, mammals, worms, insects, rock lobsters, snails, sponges are also the part of their study
Key to Success
To be successful in Zoology you should have/ develop:
  Ability to work with diverse groups of people
  An observant nature
  An interest in biology
  Ability to work for long hours
Scope and Opportunities
There is an enormous opportunity in Zoology department of colleges and university. For zoologists, there is large number of requirement in government agencies, private companies such as pharmaceutical companies or biological supply houses.  Some zoologists are employed by museums and zoos.
Lifestyle & Social Status
Spend a lot of times with animals or in forest
Work in all weather conditions
Long working hours to do a research
Work independently
Job Profile
Study the behavior of living or dead animals and classified animals according to study
Conduct various experiments on animals
Educate students and individuals or conduct workshops / seminars about animal's behavior and wildlife
Make reports of experiments, carried out on animals
Study effects of environment on animal's life
Study, species development and animal diseases
Dissects and examines specimens under microscope
Skill Sets
Research skills
Analyzing skills
Written and verbal communication skills
Scientific bend of mind
Work Value
Teamwork
Responsibility
Love for Nature
Current Job Scenario
Salary differs depending on many factors such as, education, experience, nature of work, area of specialization, and type of employing organization. Professionals working in the research and development department earn handsome salaries in this field. In the initial stages of the career, one can earn about Rs.8000 to 13000 per month. After five to seven years of work experience, this can surpass to Rs. 25000 per month mark.
Top Recruiters
Oceanographic Research Institute
National Parks Board
Environment Affairs
Course Synopsis
| | | |
| --- | --- | --- |
| Course Options | B.Sc Zoology | M.Sc Zoology |
| Academic Eligibility | Passed in 12th Science with minimum 55% marks & Entrance Exam | Passed in B.Sc with minimum 55% marks & Entrance Exam |
| Fees | Rs. 15K to Rs. 20K per annum | Rs. 40k per annum |
| Expenditure in Metro and Tier-1 | Rs. 2 Lakhs to Rs. 2.5 Lakhs | Rs. 2 Lakhs to Rs. 2.5 Lakhs |
| Expenditure in Tier-2 | Rs. 1.25 – Rs. 1.75 Lakhs | Rs. 1.25 – Rs. 1.75 Lakhs |
| Duration | 3  Years | 1 Year |
| Mode | Regular | Regular |
| Specialization | | |
| Approved | | |
| Affiliation | | |
| Entrance Exam | Institute Level | Institute Level |
| Education Loan | | |
| Scholarships | | |
Career prospect
Wildlife rehabilitators
Wildlife educators
Researchers
National  parks sanctuary manager
Animal breeder
education
Industries where Zoologist Degree holder required:
government job in research  department
universities
life science companies
pharmaceuticals
technical consulting
Entrance Exam
Institute / University Level exams are there for Bachelor and Master Degree, some of them are below:
BHU UET: BHU UET
MCAER CET is conducted by Maharashtra Agricultural Universities Examination Board (MAUEB)
NEST: NEST will be conducted by the National Institute of Science Education and Research (NISER), Bhubaneswar
JEST is a Joint Entrance Screening Test
Success Stories