Fashion Designing
Fashion designing is the art of application of design devoted to the designing of clothing and lifestyle accessories to keep pace with the ever growing modernity. This art is highly influenced by cultural and social attitudes and evolves time to time in societies. This art holds charismatic influencing powers, and it is seen and observed that, at large it leaves impact on multitudes.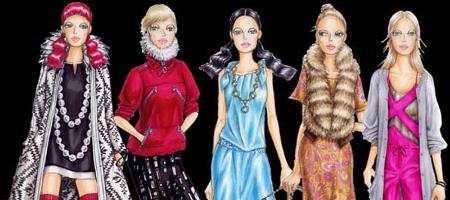 Fashion Designing has always remained quite popular among the youth population of any country. As they believe in discovering their own style and trend rather than following the traditional trend or set by others.
Key to Success
To be successful in Fashion Designing you should have/ develop:
Artistic and creative
Express their ideas in sketches
Combine colors, shades, and tones
Visual imagination and the ability to think in three-dimension
Scope and Opportunities
In India, the fashion industry is widely affected by Bollywood and Hollywood, and India being a bigger market, has ultimately brought a huge and healthy scope for fashion designers. This industry offers plenty of opportunities for talented, hard working and enthusiastic people. The opportunities for job exist in the following sectors:
As a Fashion Designer you can work in areas like fashion marketing, fashion media, fashion accessory design, promotion of brands, designer wear production etc
You can also work as a costume designer, personal stylist, fashion consultant, technical designer, graphic designer, fashion coordinator or production pattern maker
Lifestyle & Social Status
It's an indoor job.
The initial years can be very struggling.
There are some glamorous aspects to this business, you may get to rub shoulders with the rich and famous, but reaching their needs absolute hard work.
Job Profile
Collects and understands the requirements of clients to create eye-catching and functional garments and accessories according to the latest trends and market conditions
Attend fashion shows, research and study on fashion shows, visualize and creates design with the help of computer software
Create prototypes and sketches, select materials, supervise the work of designers, plan and develop ranges
Skill Sets
Knowledge and experience of basic tailoring skills i.e. cutting, sewing, draping,
Ability to distinguish among various fabric quality and particular about choosing a good cloth to work on
Understanding of the market and customer lifestyle
Good communication
Work Value
Teamwork
Creative Satisfaction
Fame
Current Job Scenario
The starting monthly package can be around Rs.6, 000 to Rs.15, 000. Depending upon the overall exposure to the market.
After gaining few years of experience in designing or after acquiring the higher level skills you can get salary in between Rs. 30000 to Rs. 40000 per month
Of course, if you become a reputed fashion designer you could demand the world.
Top Recruiters
Fashion houses run by top fashion designers such as: Abu Jani, JJ Valaya, Manish Malhotra, Neeta Lulla, Rina Dhaka, Ritu Beri, Ritu Kumar, Rohit Bal, Sandeep Khosla, Tarun Tahiliani and so on
Top notch garment and textile export houses
Textile and fabric manufacturing units
Exclusive and branded fashion showrooms
 Course Synopsis
Course Options
Diploma in Fashion Design
B.Design (Fashion)
Academic Eligibility
Pass with 50% aggregate marks in 10th or equivalent (with English)
Pass with 50% aggregate marks in 10+2 or equivalent (with English)
Fees
Rs. 60k to Rs. 90K per annum
Rs. 1.25lakhs per annum
Expenditure in Metro and Tier-1
Rs. 2lakhs to Rs. 2.5lakhs
Rs. 2lakhs to Rs. 2.5lakhs
Expenditure in Tier-2
Rs. 1.75lakhs to Rs. 2lakhs
Rs. 1.75lakhs to Rs. 2lakhs
Duration
3 Years
4 Years
Mode
Regular
Regular
Approved
UGC
UGC
Affiliation
Respective Universities
Respective Universities
Career prospects:
Footwear Designer
Clothing Designer
Costume Designer
Accessory Designer
 Top colleges
NIFT Delhi – National Institute of Fashion Technology
NIFT Mumbai – National Institute of Fashion Technology
Pearl Academy, Rajouri Garden
NIFT Patna – National Institute of Fashion Technology, Bihar
NIFT Bangalore – National Institute of Fashion Technology
NIFT Chennai – National Institute of Fashion Technology, Tamil Nadu
NIFT Hyderabad – National Institute of Fashion Technology, Madhapur
NIFT Kolkata – National Institute of Fashion Technology
NIFT Gandhinagar – National Institute of Fashion Technology, Gujarat
NIFT Bhubaneswar – National Institute of Fashion Technology
Entrance exam
CEED 2020
NID Entrance Exam 2020
NIFT Entrance Exam 2020
UCEED 2020
Success stories
https://www.youtube.com/watch?v=bU-5CTjnKn0
https://www.youtube.com/watch?v=safHu69_cKg
https://www.youtube.com/watch?v=Cvy0o_rWPms
https://www.youtube.com/watch?v=qIH7YXQBywI