Bartender
A Bartender is a person who provides alcoholic beverages at a bar in a licensed establishment. Bartenders also have to maintain the supplies and inventory for the bar. A bartender usually mixes popular cocktails such as Bloody Mary, Blue Lagoon, Brown Cow, Cosmopolitan, Dry Vodka Martini, Long Island Ice Tea, Margarita, Mojito, Singapore Sling and Pina Colada. A professional bartender has to develop a palate to distinguish different flavors, which in turn shows the ability of mixing those flavors in such harmony that it results in a very tempting cocktail.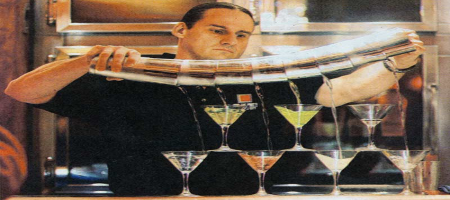 Key Success
To be successful as a Bartender you should have/ develop:
Service oriented mind
Like to meet new people
Ability to remain calm under pressure
Emotional stability in crisis situation
Ability to handle stressful situations
Good team spirit
Creativity
Scope and opportunities
Bartending has set the record level of idolization since the movie Cocktail, stellar Tom Cruise and the long-running Cheers television series have shown that a bartending career offers excitement and challenge in career.
Bars are always active with people as to celebrate good times and lift their spirits during the bad times. With this in mind, bartending has been referred to as a "recession-proof" career.
A career in bartending offers so many choices and so many built in benefits that hundreds of people are giving up traditional careers, or augmenting their income with part-time bartending work.
Lifestyle & Social Status
It is indoor as well as outdoor activity
No limits to your working hours
Once you move at higher level the social status increases
Job Profile / Tasks
Mixes and serves alcoholic and nonalcoholic drinks to patrons of bar, following standard recipes: Mixes ingredients, such as liquor, soda, water, sugar, and bitters, to prepare cocktails and other drinks.
 Serves wine and draught or bottled beer.
 Collects money for drinks served.
Orders or requisitions liquors and supplies.
Arranges bottles and glasses to make attractive display.
May slice and pit fruit for garnishing drinks.
 May prepare appetizers, such as pickles, cheese, and cold meats.
 May tend service bar and be designated Service Bartender.
Skills
Managing stress
Judgment and Decision Making
Attention to details
Communication skills
Courtesy
Work Value
Relationships
Support
Service
Off beat
Employability Scale
A Bartender in India is paid between Rs 5000 to Rs 10,000 PM depending on the class of that bar or bar come restaurant. And the tips one can earn anywhere from Rs 1000 to Rs 5000 PM or can even go higher.
They have added advantages while working for the big hotels. A good bartender can work anywhere in the country, or in the world.
Top Recruiters
The Indian Hotels Company Ltd (IHCL)
East India Hotels (EIH)
ITC
Hotel Leela venture.
Hilton
Marriott International
Course Synopsis
Course Options
IIBT Diploma in Bar Management and Diploma in Hotel Management & Catering
Craftsmanship Course in Bartending

Certification Course in Wines & Spirits (Inclusive of Barflairing & Bar Tricks)

Academic Eligibility
Any graduate
Any graduate
Any graduate
Fees
Rs. 65,000/Per Year
 Rs.35, 000/ per year
Rs.19, 000/ per year
Expenditure in Metro and Tier-1
Rs. 2lakhs to Rs. 2.5lakhs
Rs. 2lakhs to Rs. 2.5lakhs
Rs. 2lakhs to Rs. 2.5lakhs
Expenditure in Tier-2
Rs. 1.75lakhs to Rs. 2lakhs
Rs. 1.75lakhs to Rs. 2lakhs
Rs. 1.75lakhs to Rs. 2lakhs
Duration
1 Year
1 Year
3 months
Mode
Part Time
Regular
Regular, part Time
Approved
AIHMCT
AIHMCT
AIHMCT
Affiliation
Entrance Exam
N/A
N/A
N/A
Education Loan
Scholarships
 
Career prospect
Pubs & bars
Hotels & restaurants which serve alcoholic beaverages
Luxury cruise ships
Lounges at airport & at other facilities
 Private & corporate events
Entrance Exam
 Success Stories