Beautician
Beauticians are set of skilled persons, able to give cosmetic treatment and services to their clients ranging from simple make-up to hair styling; head to toe massage, advice clients on right use of cosmetics best suited for client's skin type. We live in a world that values the way one looks, grooms and presents him or herself, and the cosmetics industry plays a vital role in helping one achieve that look. The way one looks can be a calling card for personal and professional growth.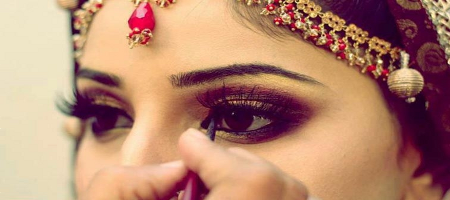 Today, the makeup industry is a global multi billion dollar industry and growing. A makeup artist is intimately involved in the most important and exciting events of people's lives, from weddings to the Academy Awards. Makeup artists get to work with a variety of people such as models, actors, politicians, and musicians.
In India this sector is emerging as one of the best career options. Till recent beauty salons were meant for women mostly but grooming specialists for men is growing very fast.
Key to Success
To be successful as a Beautician you should have/ develop:
Persuasive attitude
Courtesy
An attractive and well groomed appearance
Liking for people
Innovation
Customer centric attitude
Scope and Opportunities
To be successful in this profession you first need to earn a very good reputation from satisfied clients. As a fresher student you can start working with well established beauty salons and later think of starting their own establishment.
Lifestyle & Social Status
Mostly is an in house activity.
Most of the time you need to stand on your feet.
It offers a peaceful and dignified work atmosphere and lifestyle.
Well known Personalities in Makeup and Hair Styling
Mickey Contractor and he has worked with almost all the faces in Bollywood
Marvie Ann Beck has done makeup and hair for Aishwarya Rai, Kareena Kapoor, Malaika Arora Khan, Bipasha Basu
Job Profile
As a Beautician you can work in the following areas:

Bridal Make up
Skin treatment
Manicure and pedicure
Hair styling
 Skill Sets
Knowledge of massage techniques
Fluency in regional as well as English language
Awareness of clients needs
Marketing
Work Value
Polite
Interaction with people
Entrepreneurial work
Service oriented
Current Job Scenario
This Profile of beautician has a huge demand on various areas including film, television, theatre, media, fashion, video, photography and bridal makeup. This profession is broadly categorized as
Professional makeup
Camouflage makeup
Fun faze makeup
Face and body painting
Special effects makeup and prosthetics apart from recent innovations like high definition and air brush make up.
These days' beauticians/professional makeup artists are more in demand than ever before. Globalisation, influx of MNCs, etc, are all expanding the professional makeup market segment. The customer awareness is contributing to create a huge requirement for domain skilled makeup Artists. Supporting the claim we find make up schools and academies mushrooming in urban and semi-urban India, attempting to close this demand-supply gap.
Top Recruiters
Dr. Batra's Clinic
Lakme Salon
Jawed Habib Hair & Beauty Ltd
 Course Synopsis
Course Options
Diploma in Beauty Culture &  Hair Dressing
Certificate course in Beauty Culture &  Hair Dressing
Academic Eligibility
10th Passed
10th Passed
Fees
Rs. 40k to Rs. 50k
Rs. 25k to Rs. 35k
Expenditure in Metro and Tier-1
Rs. 2 lakhs to Rs. 2.5lakhs
Rs. 2 lakhs to Rs. 2.5lakhs
Expenditure in Tier-2
Rs. 1.75 lakhs to Rs. 2lakhs
Rs. 1.75 lakhs to Rs. 2lakhs
Duration
15 months
10 months
Mode
Regular
Regular
Approved
Affiliation
 Punjab Technical University
 Punjab Technical University
Entrance Exam
 
 
Education Loan
Scholarships
Career Prospect
Beauty parlours
Spas
Beauty clinics in hotel & health resorts
Fitness clinic
Self employment
Entrance Exam
Success Stories