Biomedicine
Biomedicine is a branch of medical science that applies biological and other natural-science principles to clinical practice.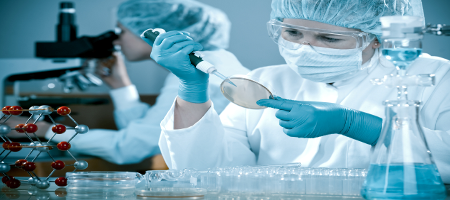 "Biomedicine involves the study of (patho-) physiological processes with methods from biology, chemistry and physics. Approaches range from understanding molecular interactions to the study of the consequences at the in vivo level. These processes are studied with the particular point of view of devising new strategies for diagnosis and therapy."

After completion of graduation in bio-medicals one can opt for post graduation in
Biotechnology
Genetics
Biomedical sciences
Environmental sciences
Other allied subjects
Key to Success
To be successful as a Bio Medicine you should have/ develop:
Good memory and recollection ability
Service mentality
Stamina
Power of concentration
Emotional stability
Scope and Opportunities
Biomedical Sciences is the degree course of three years. In this study one learns about the biological functioning of the human body, and discovers the mechanisms of various diseases, it's a good course purely focusing on sciences. There are varied opportunities in this field, if you are interested in research there is great scope if not there are other options open the industry. Job growth in this sector is enormous. One can study biomedicine through two paths one is science and other is engineering.
Lifestyle & Social Status
The job is indoor
Well paid
Lot of research related work
Job Profile
To conduct research on behavioral, biological, psychological, or other life systems of living organism.
Develop new facts/tests, prove/modify known theories of life systems
Design and develop artificial organs, ultrasonic imaging devices, cardiac pacemakers or other health-care personnel in observing, repairing, or treating physical ailments.
May specialize in design and development of biomedical equipment used by medical facilities and be known as Clinical Engineer.
Skill Sets
Logical  skills
Analytical Skills
Ability to take timely decisions
Work Value
Responsibility
Flexible
Learning throughout their career
Patience
Current Job Scenario
Biomedical science is one of the highly edifying fields. A fresher working in hospitals and health care centers are paid between Rs. 10,000-15,000 PM. Graduates engaged in research activities and teaching sector are paid between Rs. 15,000 – 20,000 PM. The Starting Salary of Individuals working in government sector are between Rs. 20,000 – 25,000 PM.
Top Recruiters
Government or private hospitals
Nursing homes/clinics/health departments
Medical colleges and training institutes as teachers
Research institutes and medical colleges as researchers
Industrial sector
Private practice/ self employment
Course Synopsis
| | | |
| --- | --- | --- |
| Course Options | B.Sc./B.tech Biochemistry | M.sc Biochemistry |
| Academic Eligibility | 10+2 with biology, maths and chemistry | B.Sc./B.tech Biochemistry |
| Fees | Rs. 10K to Rs. 15K per annum | Rs. 20K to Rs. 15K |
| Expenditure in Metro and Tier-1 | Rs. 2lakhs to Rs. 2.5lakhs | Rs. 2lakhs to Rs. 2.5lakhs |
| Expenditure in Tier-2 | Rs. 1.75lakhs to Rs. 2lakhs | Rs. 1.75lakhs to Rs. 2lakhs |
| Duration | 3/4 Years | 2 Years |
| Mode | Regular | Regular |
| Specialization | | |
| Approved | UGC | UGC |
| Affiliation | Respective University | Respective University |
| Entrance Exam | | Yes |
| Education Loan | | |
| Scholarships | | |
Career prospect
Bio material technicians
Bio mechanics engineer
Bio medical equipment technician
Medical mechanics
Genetic engineer
Imagine specialist
Entrance Exam
For B.Tech in Biomedical – JEE, JEE Advanced and State Level Entrance Exams
For B.Sc in Biomedical – Admission process takes place on merit basis
Success Stories