Operation Theater Technicians
Today, surgery has acquired a very big role in healthcare. The field of surgery has become very vast and is still growing. Many diseases which were incurable earlier are now amenable to surgery today. Similarly, many surgeries which were associated with high mortality & morbidity have now become very safe.
All this requires a good operation theatre, State of the art equipment and a very competent team. The surgeon, as the team leader, depends a lot on his OT technicians. Quality of the OT technician affects all the aspects of the operations and their outcomes.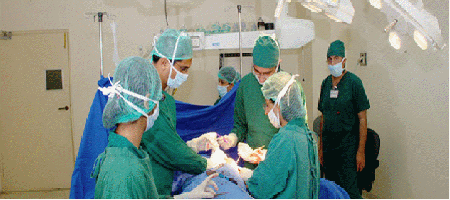 Key to Success
To be successful as a Operation Theater Technician you should have/ develop:
  Good memory and recollection ability
  Service mentality
  Stamina
  Power of concentration
  Emotional stability
Scope and opportunities
With so many hospitals coming up – big & small – and their numbers likely to grow in the next 10 years, the prospects for OT technicians are very bright. All hospitals have operation theatres and an ordinary paramedic is not competent to run the OT. A qualified OT technician becomes a necessity.
Lifestyle & Social Status
An operation theater technician profession involves a lot of hard work and at the same time, it gives the satisfaction of helping patients at times even saving lives.
It is a very demanding profession.
To be in this profession is more a responsibility than a privilege.
Job Profile
Theater sister is in charge and one sister is assists the surgeons
Skill set
Logical  skills
Analytical Skills
Ability to take timely decisions
Work Value
Responsibility
Flexible
Learning throughout their career
Patience
Current Job Scenario
As a fresher one earns INR 1, 25,000 – 2, 00,000 P.A but with experience one gets better prospects.
Top Recruiters
Government or private hospitals with multiple OT's
Medical services of the army, navy and air force, under the Ministry of Defense
Medical colleges and training institutes as teachers
Course Synopsis
Minimum Eligibility for Admission:10 + 2 in any stream
Duration of the course:2 years
Student support:
Besides the class room theoretical teaching, there will be adequate amount of practical demonstrations and practical learning by audiovisual and simulator modes. You will get exposure to actual working of the Operation Theatres by way of observer ship and internship training. You will be imparted emergency service training and soft skills to give you an edge over others. At the end of the course, you will be in a position to independently manage a medium level operation theatre.
| | |
| --- | --- |
| Course Options | Diploma in operation theater technician |
| Academic Eligibility | 10+2 with PCB |
| Fees | Rs. 10K to Rs. 15K per annum |
| Expenditure in Metro and Tier-1 | Rs. 2lakhs to Rs. 2.5lakhs per annum |
| Expenditure in Tier-2 | Rs. 1.75lakhs to Rs. 2lakhs |
| Duration | 3 Years |
| Mode | Regular |
| Approved | UGC |
| Affiliation | Respective University |
| Entrance Exam | NA |
 Career prospect
Anatomy
Operative care
Critical care
Operation theater procedures
Entrance Exam
Success stories