Optometrist
Optometrist is the health care professional related with examination, diagnosis and treatment of eyes. They examine refractive error and prescribe appropriate correction. Moreover, they treat on eye testing, also known as Vision Screening  diagnose visual problems, optometric counseling of patients with partial sight, color blindness and hereditary vision defects, designing and fitting of spectacles, contact lens etc.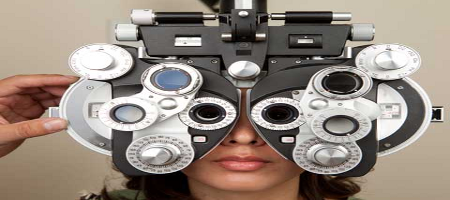 Key to Success
To be successful in Optometrist you should have/ develop:
  Service mentality
  Stamina
  Power of concentration
Scope and opportunities
With the changing lifestyle and changed work culture, working on computers for longer hours strains eyes and leads to increase in the eye related problems, hence, making the role of an Optometrist even more important.
Building a career in this field is tough as requires a lot of hard work, dedication and spirit to serve the society.
You must differentiate between Optometrist and Ophthalmologist: Though Optometry goes in tandem with Ophthalmology in treatment of Visual disorders. An Optometrist performs some basic tasks of an Ophthalmologist, except surgery. Whereas Ophthalmologists (Eye Surgeon) are specialized in eye and vision care  and perform eye surgery, as well as diagnose and treat eye diseases and injuries.
Lifestyle & Social Status
Indoor job
Can open an optic store
No long working hours
Job Profile
Observes eyes to determine nature and degree of vision problem or eye disease and prescribes corrective lenses or tests to examine visual acuity and perception and to diagnose diseases and other abnormalities, such as glaucoma and color blindness.
 Prescribes eyeglasses, contact lenses, and other vision aids or therapeutic procedures to cure or conserve vision.
 Advices with and refers patients to OPHTHALMOLOGIST or other health care practitioner if any additional medical treatment is to be done.
 Prescribe medications to treat eye diseases if state laws permit.
 May specialize in type of services provided, such as contact lenses, low vision aids or vision therapy, or in treatment of specific groups, as children or elderly patients.
Skill set
Logical  skills
Analytical Skills
Ability to take timely decisions
Work Value
Responsibility
Flexible
Learning throughout their career
Patience
Current Job Scenario
Optometrist Salary can get anything near Rs.15,000 to Rs.20,000 to start with and go upto Rs.25,000 to Rs.30,000 with expertise in the field.
Top Recruiters
They can establish an independent practice by starting their own optical shop, lens manufacturing unit etc. or can work with optician showrooms, eye doctors, contact lens industry, hospital eye departments etc. Optometrists can also seek employment with some multinational organization dealing with eye care products as professional services executives or take up teaching as a career. Optometrists could also take up the work of occupational health specialists in the vision care of industrial workers.
Course Synopsis
To be eligible to join this degree courses in optometry one should be 10+2 with Biology, Physics and Chemistry as main subject with 50% marks.
Age limit to take EYECET is 17 years as on 31st December of the respective year. Age limit for direct admission to 3rd year B.Optom course is 19 years. In addition, they have to appear for the EYECET test.
Interested candidate has to appear for the EYECET examination. The EYECET exam is the centralized, combined, entrance test for entry into optometry courses, which is recognized all over the country. OR
For direct admission to third year B.Optom course, candidates who have completed their 10+2, must have a 2 year diploma course in Optometry, Ophthalmic Techniques, Refraction, Orthoptics and Ophthalmic Assistance with 40% marks from an Institute recognised by Indian Optometric Association and Bharati Vidyapeeth Deemed University.
| | |
| --- | --- |
| Course Options | Bachelor's of Optometry |
| Academic Eligibility | 10+2 with PCB |
| Fees | Rs. 10K to Rs. 15K per annum |
| Expenditure in Metro and Tier-1 | Rs. 2lakhs to Rs. 2.5lakhs per annum |
| Expenditure in Tier-2 | Rs. 1.75lakhs to Rs. 2lakhs |
| Duration | 3 Years |
| Mode | Regular |
| Approved | UGC |
| Affiliation | Respective University |
| Entrance Exam | NA |
 Career prospect
Doctor of optometry
Eye clinic manager
Independent contractor
Optometrist
Practice owner
Optometry service
 Entrance Exam
There is no any national level exam for the course, following are the institute or university level exams:

EYECET
AIIMS Exam
JNU Entrance Exam
DU Entrance Test
CMC
 Success stories