Soil Scientist
The scientist who studies the soil and the information related to it for understanding its resources is called a Soil Scientist. He examines the few top layers of the Earth's crust to understand its physical and chemical properties; distribution, origin and morphology; and biological components. He needs to be strong in physics, biological science, and mathematics. One should have university degree in Soil Science or agriculture, earth science, etc and additionally he should have knowledge on soil forming factors, and soil morphology, soil physics, soil chemistry, and soil biology, and the dynamic interaction of these areas. Soil Scientists are responsible for evaluating soil conditions and help farmers, builders, and environmentalists decide how the advantage can be taken of local soils.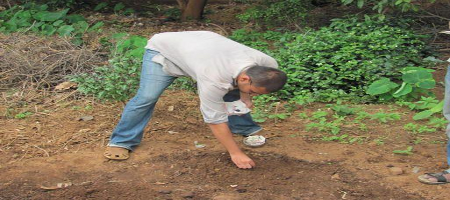 Key to Success
To be successful as a Soil Scientist you should have/ develop:
  Keen observation
  Adaptability to new techniques
  Critical Thinking
Scope and opportunities
Soil Scientists who work for the federal government directs soil estimation, classifying and mapping soils. Regular information and recommendations are given to farmers and other landowners of taking full advantage of land, and plants to avoid or to solve problems, such as erosion.  A soil scientist collects soil data, consults, and investigates evaluates interprets, planning or inspection relating to soil science. One has opportunities in the research related to the resources and based on this research one has make recommendations.
Lifestyle & Social Status
Indoor as well as outdoor
Dirty the hands in soil
Gathering samples
Working in the farms in all weather conditions
Job Profile
Agricultural Soil Scientist: Main area of focus is on the framing conditions of the soil. They work as farm advisors, crop consultants, or representatives of agricultural companies.
Environmental Soil Scientist: These soil scientists focus on the soil's function for a healthy environment. They often work in environmental positions dealing with the quality of water, treatments of contamination, or for on-site evaluation of soil properties in construction, waste disposal, or recreational facilities.
Skill sets
 Innovation
Research skills
Science skills – Chemistry, Biology
Mathematical skills
Work Value
Challenging
Autonomy
Work with his (or her) hands
Current Job Scenario
The salary varies according to the research fellowship offered by the university. After clearing the NET/SET one gets high JRF but if one does not crack the NET/SET the salary varies from Rs.12,000/- to Rs. 14,000/-PM.
Top Recruiters
Research
Agriculture institutes
NGO's
Course Synopsis
| | | | |
| --- | --- | --- | --- |
| Course Options | B.Sc. (Agriculture) | B.Tech Agriculture | M.Sc -Soil Science |
| Academic Eligibility | 10+2 with biology, maths and chemistry | 10+2 with biology, maths and chemistry | 50% aggregate marks in B.Sc. Agriculture |
| Fees | Rs. 20K to Rs. 30K per annum | Rs. 40K to Rs. 50K | Rs. 25K to Rs. 35K |
| Expenditure in Metro and Tier-1 | Rs. 2 Lakhs to Rs. 2.5 Lakhs | Rs. 2 Lakhs to Rs. 2.5 Lakhs | Rs. 2 Lakhs to Rs. 2.5 Lakhs |
| Expenditure in Tier-2 | Rs. 1.25 – Rs. 1.75 Lakhs | Rs. 1.25 – Rs. 1.75 Lakhs | Rs. 1.25 – Rs. 1.75 Lakhs |
| Duration | 3/4 Years | 4 Years | 2 Years |
| Mode | Regular | Regular | Regular |
| Specialization |  Soil Science | Soil Science | Soil Science |
| Approved | UGC | UGC | UGC |
| Affiliation | Respective University | Respective University | Respective University |
| Entrance Exam | | Yes | |
| Education Loan | | | |
| Scholarships | | | |
Career prospect
Plant scientist
Rural practice surveyor
Soill scientist
Agricultural consultant
Service sector job
Corporation
Self-employed
Agricultural management
Entrance Exam
All India Level
ICAR-AIEEA
State Level
Punjab Agricultural University Entrance Exam
·         MP PAT
·         JCECE
TS EAMCET
Success stories