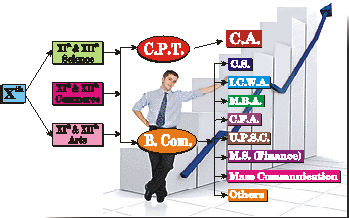 Most commerce aspirants tend to have a rough idea about the various options available but that does not qualify to having a complete knowledge. If you have taken commerce, then you have probably decided to seek a career in the commerce stream. Just like other streams even commerce has a wide range of options to choose from, some of the various options available to commerce aspirants range from banking to computers and law. These are but only some of the various available courses after 12th Commerce.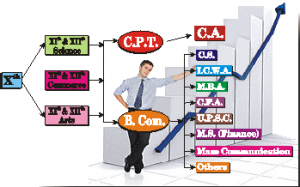 Banking – students with an inclination to banking can select a course from a wide spectrum of options available such as Retail / personal banking, Corporate banking, Merchant banking, Treasury group, Rural banking, Product management, Loans executive etc.
Accounts – students with a knack for mathematics can choose from a broad spectrum of courses that require good numerical ability such as Chartered Accountant, Cost and work accountant, Certified financial analyst, Certified financial planner so on an d so forth.
Insurance - Actuarial science, Insurance and Risk management, Insurance surveyor, Insurance agent are options available to students seeking a career in insurance.
Investments - Equity research analyst, Investment banker, Mutual fund executive, Stock broker, Capital Market Manager, Forex dealer, Venture capitalist, Real estate are options available to students that have an interest in the different kinds of investments.
Management – for students who prefer a career in the management discipline they can avail of courses like Human resource Management, Brand management, Event management, International business management, Market research management, Retail management, Marketing and Sales management, Technology management, Disaster management, Education management, NGO management, Rural management, Operation and Logistics management, Export management, Family business management, Material management, Financial management, Business development management and lots more.
Finance - commerce aspirants that have an inclination towards finance can choose from a wide range of courses such as Certified Financial Analyst – CFA , Certified Financial Planner – CFP etc.
Computers - Software development, System architect, Web developers, Multimedia designer, System/IT manager, Database Administrator, Data processing assistant/ Data entry operator, Servicing and Maintenance technician, Technology management
Law - For aspirants who like to play with words a career in law is the perfect course at it requires a lot of brain storming as you need to understand the exact meaning behind the words that you use both verbal and written. As the words used determine the direction the issue is going to take.
Other options available to commerce students after 12th are Economics, Company Secretary and lots more.